Custom Blade Gallery, check here for a better view of the blade options.
Premium Saya Gallery Please check here
*0518 Upgrade -- Unokubi-Zukuri Extra Sharp Spring Steel blade added to selection. Our recommendation for tameshigiri.
* 0315 Upgrade -- Real Ray Skin (Panel) Samegawa applied to all our custom katana. 
*Lead time for custom katana is 7-10 days*

*Final Price will be displayed in checkout page*
Standard Size Info:
Overall Length: 103cm / 40.5 Inch
Blade Length: 72cm / 28.3 Inch (Full Tang Blade)
Handle Length: 27cm / 10.6 Inch Real Ray Skin Samegawa
Blade Thickness : 0.7cm / 0.27 Inch
*Size might be a bit different for different design*
You are what you carry, your choice of weapon reveals a lot about your personality. There were countless stories of a famous swordsmith forge custom katana for legendary samurais, Daimyō etc. Katana is the soul of a samurai, and for every katana fans, eventually we will want a custom katana for ourself.
If you are looking for a truly unique Katana, the one and only Katana belongs to you, you have come to the right place. We offer the Katana customization service, with large selection of blade modification options here, from blade to handle, you will find the perfect combination for your dream Katana. 
*We are adding new options regulary, remember to bookmark this page and come back once in a while. 
*If you need extra customization that is not included here, please contact hello@romanceofmen.com
Want to take the uniqueness of your custom katana to another level? Check out our advanced customization service:
Blade Material
The blade is the most important part for your custom katana.
 We have Carbon steel, Manganese Steel, Spring Steel,Pattern Steel & T10 Steel in different color and pattern for your selection.
Carbon (1060) & Manganese steel are the basic options, in compare, Carbon steel is a bit harder, Manganese steel is more flexible.

Spring steel is most flexible and will even bounce back even you bent the blade hard intentionally. That makes it the safest steel for heavy cutting and tameshigiri because it's less likely to break.

Pattern steel, also known as Damascus steel, is combination of different steel to create eye catching patterns on the blade, its also hard.

T10 Steel is hard with high carbon content. All T10 steel blade are clay tempered, with true hamon line.
Bo-Hi (Blood groove) 
Bo-Hi, also known as blood groove, fuller. What it does is to reduce the weight.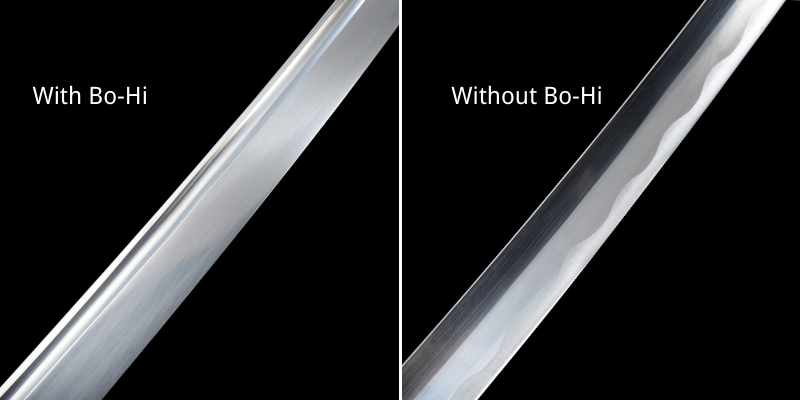 Aesthetic Blade Series:
Katana's aesthetic value outweighs it's functional value in many cases. Refining the sword can take even longer than forging one. In this collection we offer hand polished blades with various color, texture and hamon line, you can use for your custom katana. 
Saya(Scabbard)
Saya helps protect your blade from rusting and accident scratch or damage. it's also an integral part of the elegant katana design. We offer wide range of katana saya designs to fit your custom katana design. Including solid color, mixed color, auspicious arts or luxury lacquer design.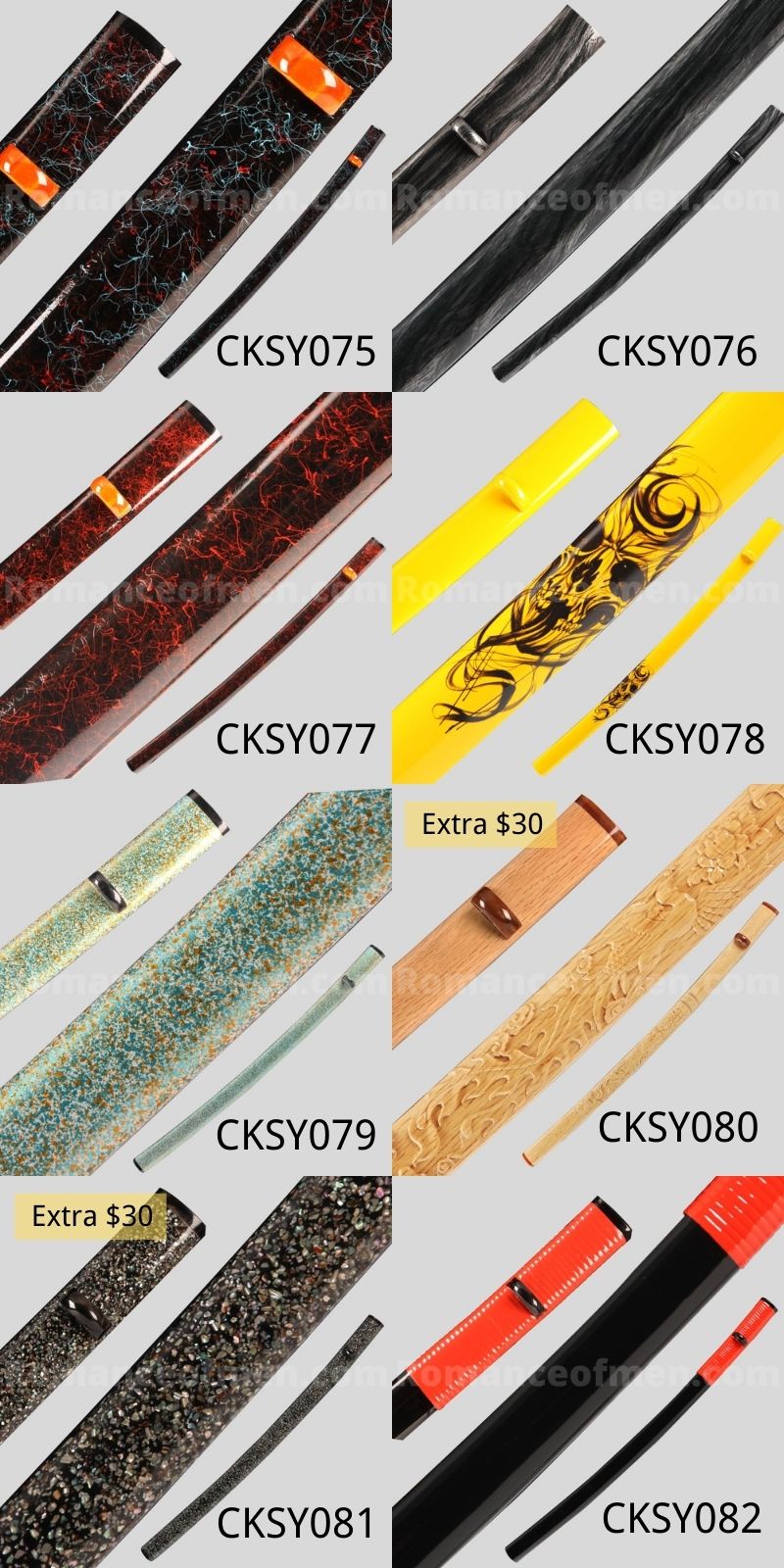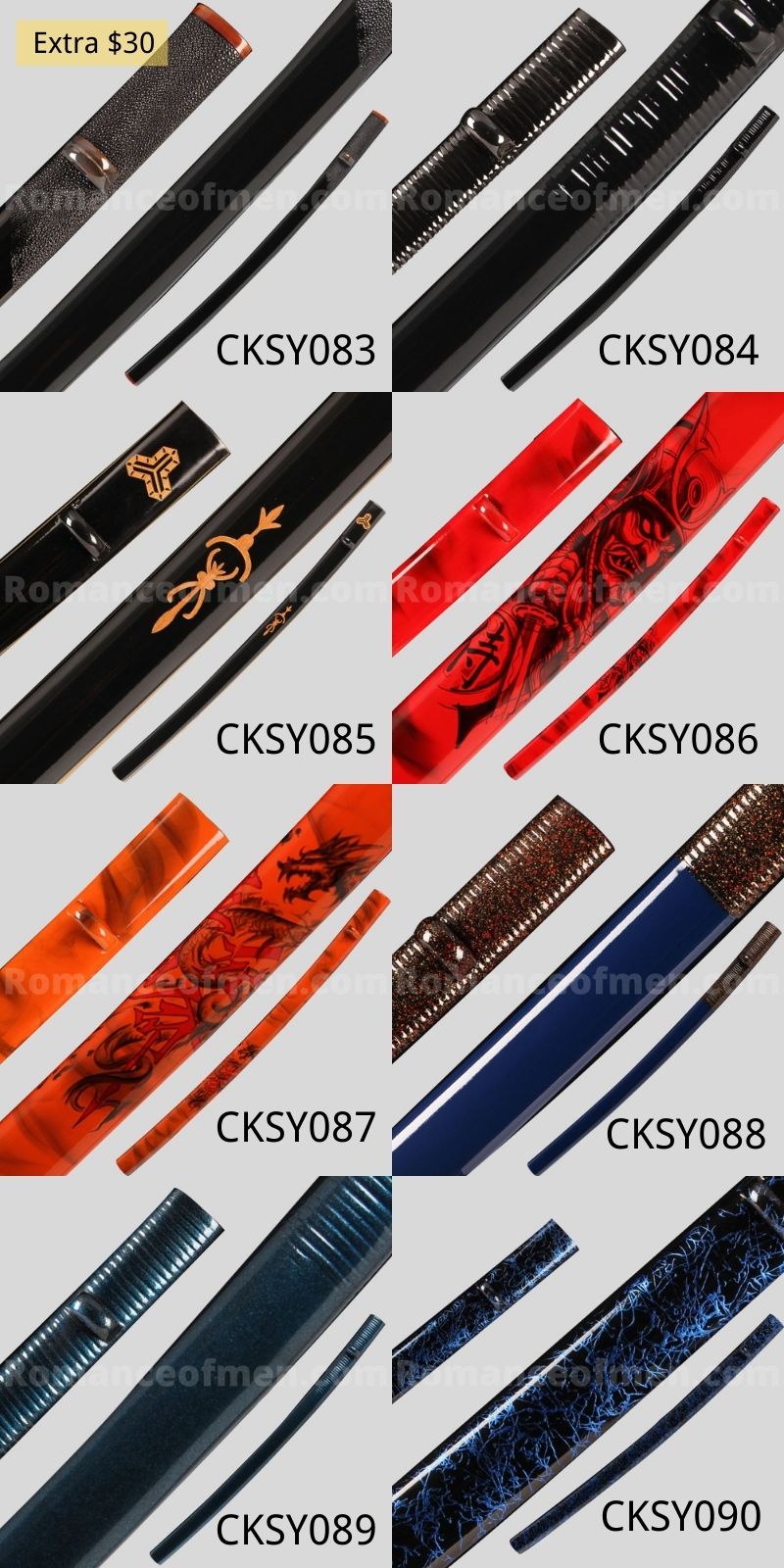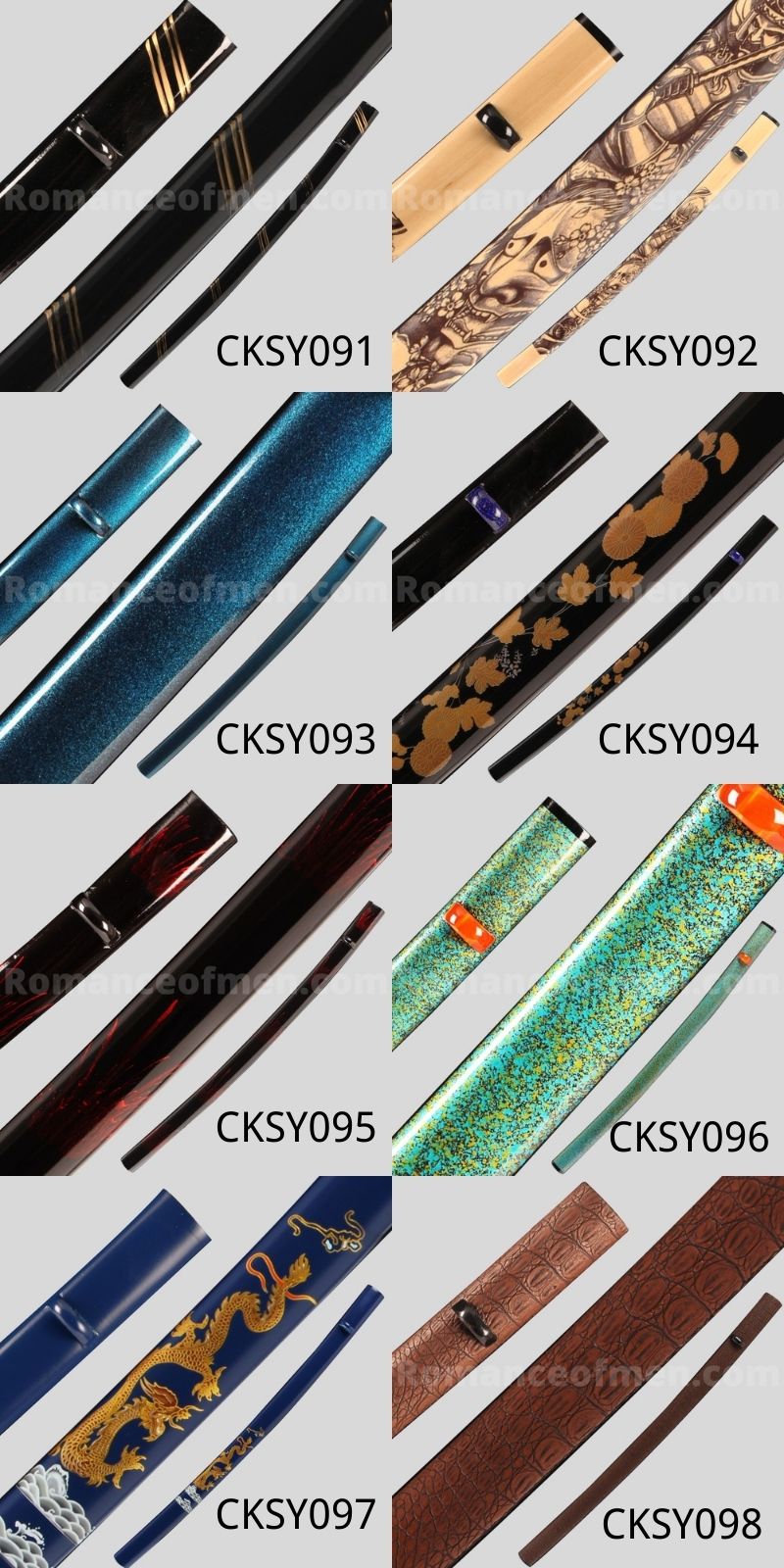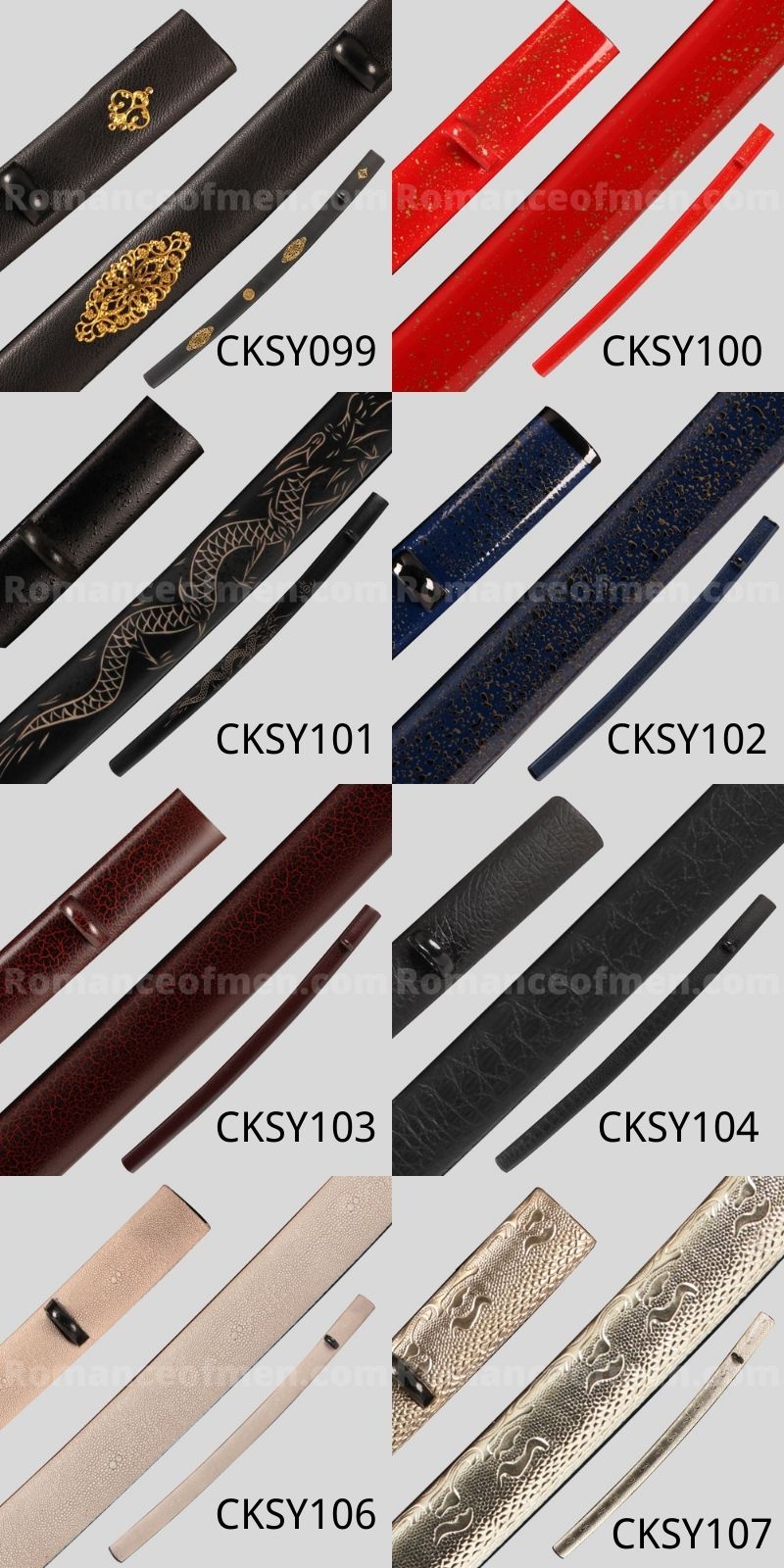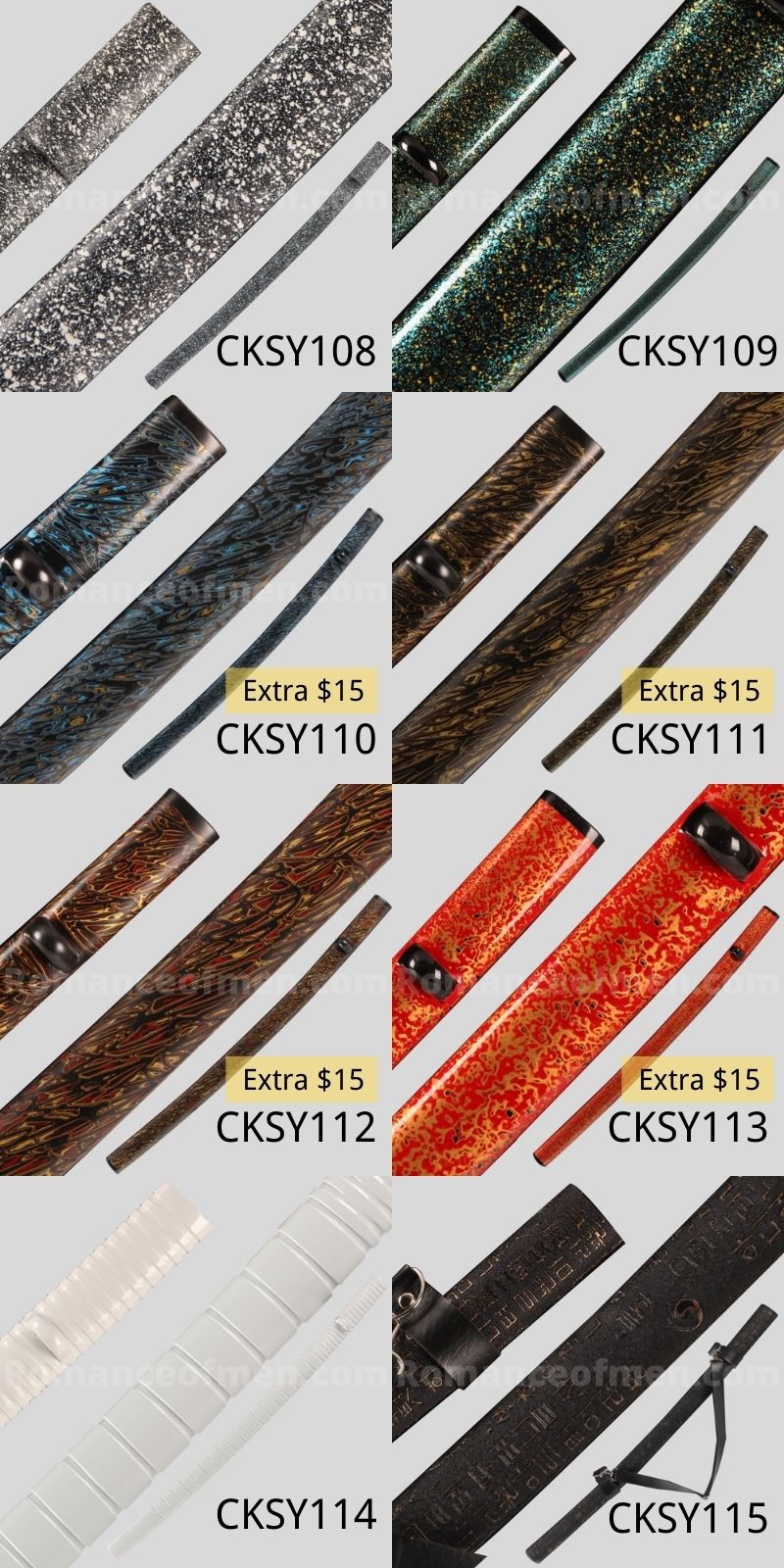 Tsuba (hand guard) Fitting:
Tsuba protects your hand, balance the katana, and it's probably the second most refined part of a katana. We offer symmetrical pattern, anime theme, and auspicious designs that will bring good luck to the custom katana owner. 
The Habaki
The Habaki is a small accessory that helps secure the katana blade into the saya, as well as keep the tsuba in place. 
The Ito & Sageo
Ito is the wrapping on the handle, Sageo is the cord that is used to keep the scabbard on your belt. We offer cotton and PU leather material in various color options. 
Samegawa
We used real ray skin samegawa (panel, not full wrapped) for all our custom katana. Real ray skin provides better gripping experience, it's more expensive at our cost, but it's worth.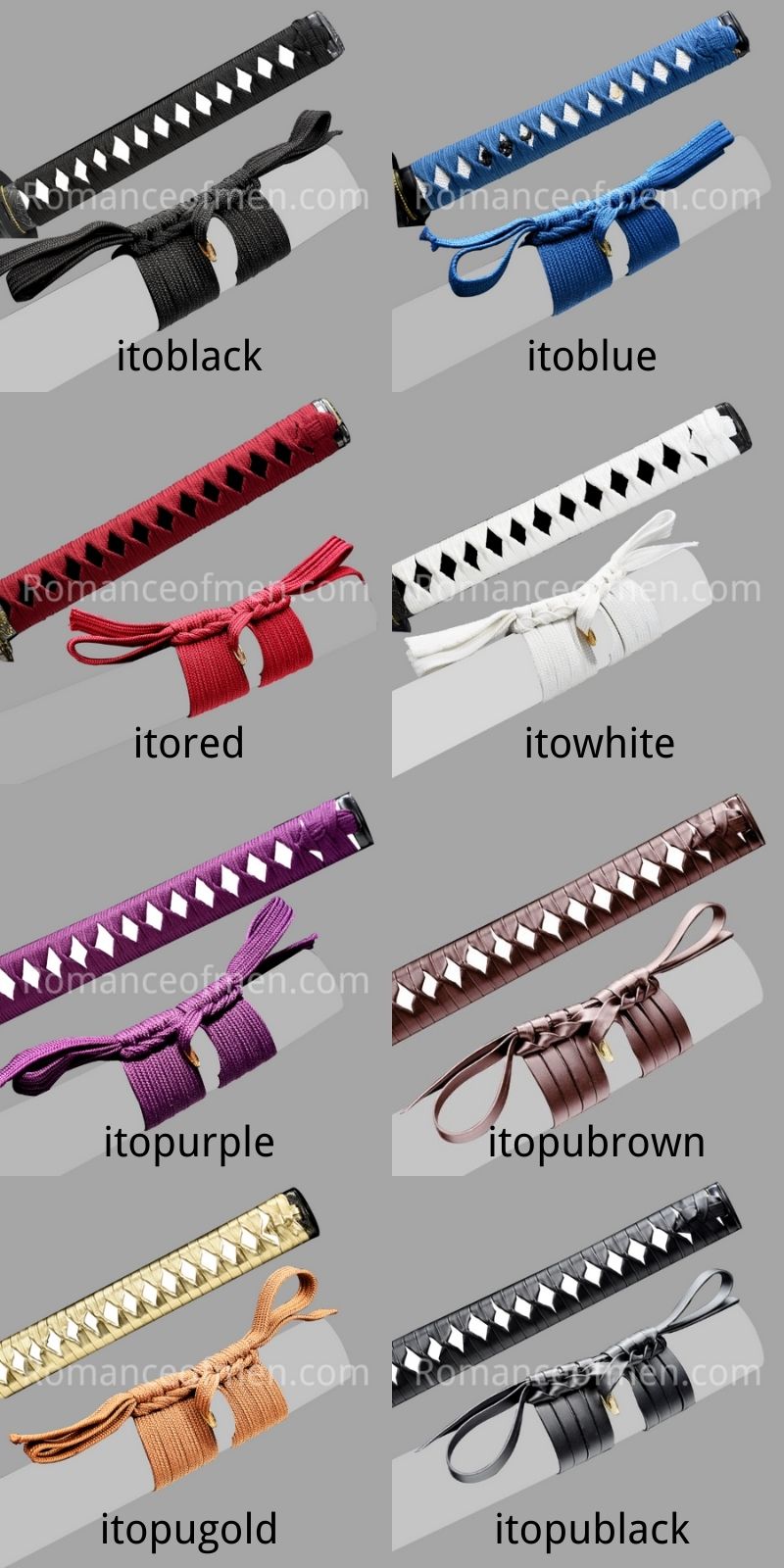 You can engrave the name of an important person, a number, a short phrase, or anything that means a lot to you. We provide free Chinese or Japanese translation service.

Custom Katanas from our customers
Advanced Custom Katana Service

Our advanced katana customization service allows you to go beyond standard options and make your katana exactly what you want it to be. One of our blacksmith will be dedicated to your custom order. Our advanced customization options include but not limited to the following:
Length: You could customize the blade length (Nagasa) or handle length (Tsuka) of your custom katana. Depends on your height, your Kenjutsu styles, it's very common that you will want a longer or shorter katana that suits your need
Blade Material: Other than modern steel, we can also forge your katana with traditional steel like Kobuse steel, Honsanmai steel, shihozume steel etc.
Blade: You can have it sharp, extra sharp, or even reversed blade.
Curvature (Sori) : You could choose most common type Toori Sorri, or sakisori, or koshisori, or design your own. A katana with a little more curvature will cut smoother.
Tip (Kissaki) : You could choose different size style of kissaki, big (O-kissaki ), middle (Chu-kissaki) Or small (Ko-kissaki), or a short one (Ikubi Kissaki), curve one (Ikari Kissaki), or a straight one (Kamasu Kissaki)
Hamon line: Probably the most fascinating part of a katana. Our blade smiths can make majority types of hamon lines, from straight (Suguha) to Wavy (Midare) , as well as Gunome, notate etc.

Engraving: Other than name engraving, we can also engrave graphic designs on your katana blade. Auspicious patterns like dragon, demon are most popular choices.
Blood Groove (Bo-hi): Beside our standard bohi, you can also custom bo-hi for your blade, common types like double bohi, unokubi zukuri, shinogi zukuri are available.
Tsuba: We can fully customize the Tsuba for your katana, you can personalize the shape, the design. Material available is iron, copper or alloy.
Saya: We can fully customize the saya for you. You can print some graphic on it, or add craving designs, or lacquer art.  
If you are interested in a fully customized katana, please send your requirements to hello@romanceofmen.com, we will discuss the requirements with you, and give you the final quote. Depends on how complex the requirements are, we will need deposit to start making the sword, and in some cases, even an advance fee to finalize the quote. For example if you want to customize a katana but you don't know how to create a 3D file, we need to hire someone to do that, so we can make an accurate quote based on the 3D design.
Customization at this level is very time consuming, a higher price and longer lead time (at least 1 month) is expected.
We can't replicate fantasy swords at the moment, most of them are not designed for actual use, our focus is on functional swords only.
For more custom swords, please check: